I've had the fortune and pleasure of staying at some of the most beautiful hotel and resort properties in the world. And much like great restaurants, comparing these properties is virtually impossible. That said, I'm human and I have my favorites – and the Intercontinental Toronto Centre (ICTC) ranks among my most enjoyable hotel stays, and is most certainly one of the best places to stay in Toronto.
Before I visit any property, I follow the property on Twitter so I can see their posts and how they engage with their followers. This is an important indicator of how well the property leverages social media and communicates with their fans and guests. Upon following the ICTC at ICTorontoCentre, the property immediately followed back, which is not necessary, but very nice. I then asked for some stock images for my blog, and the property immediately sent some by email, which is great. Then the property – through Twitter – asked for my confirmation number so it could check on my reservation, and then the property confirmed that my reservation was in order.
I have to say that this was by far the best pre-visit interaction with a property in my entire travel experience.  Huge credit to the ICTC social media staff. I was extremely excited to visit the property!
Here are the photos provided to me by the hotel: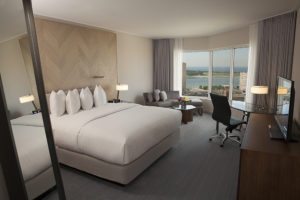 The hotel is absolutely beautiful.  I have Platinum Ambassador status with the International Hotels Group (IHG) and it is my favorite hotel loyalty program. Among the many benefits is the separate check-in desk with chairs. Upon checking in, a very friendly gentleman named Eugene notified my wife and I that we had the opportunity to be upgraded to the Presidential Suite! Ah-may-zing! Eugene was quick to note that the Suite was due for an upgrade, but who the hell cares!? It's the Presidential Suite! Then Eugene gave us a personal tour of the Suite! Yes please!
We were not disappointed. Wow, what a Suite!
I could rave for thousands of words about this room. Wow. One of my favorite views is the one from the CN Tower where you can see our terrace!
We didn't want to leave the room! As you can see, my lovely wife was getting quite used to the room!
We absolutely adored our stay at the Intercontinental Toronto Centre. Service was outstanding, the room was beyond compare, and we can't wait to come back!!!  We enthusiastically recommend staying at the ICTC!
Here's the information on the Intercontinental Toronto Centre:
225 Front Street West – Toronto, CA
Facebook: https://www.facebook.com/intercontinentaltorontocentre
Twitter: @ictorontocentre
Instagram: @ictorontocentre